Testimonials
Hi Andy, I just wanted to get in touch with a quick testimonial for you: "Andy and his team originally came over to remove a tree stump and cut back a tree however, we were so impressed with his professionalism, hard work and expertise that we quickly invited him back to landscape our entire back garden. Friendly 5 star service and thoroughly recommend". We will be over soon with the money we owe you for the additional work. Many thanks, Steve
Just had a log delivery from A & P Wood Services! On time bone dry excellent value for money! I would recommend them! J Harris
Hi Andy, just thought I'd drop u a text to say started using our logs this week and they r awesome!!!! I had a fire last night and believe or not its still hot now!! I would like a delivery of mixed logs at beginning of each month over winter if possible. Phil and I are in maldives beg oct but back on 9th if we could have a delivery round abou t then, and then on beg of each is good. We have the Green meeting on monday so I will give everyone ur card. Thanks Andy. Sue Shaw
Good morning Andy. Thanks for the wood delivery, best we have had
Burned lovely.
I have passed on a number of your cards at the sports club this morning.
Please give me a call when that OAK is ready and I will order a load .
Many thanks
Cookie
Andy, Many thanks for removing the fallen tree and all the waste at the rugby club. It was a great speedy service following the damage caused by hte strong winds.
Jim, Chairman IRFC
Excellent service, tree chopped down in no time, very tidy job and all mess cleared up, you would know they had been there. Very professional would definitely recommend.
Jack Berryman
Hi Andy, I was very happy with your work on the 26th. Very efficient and professional. Got on with the job, tidied up afterwards. Competitive price. What more could you ask for. Will definitely use your services again when needed, and will recommend you too. Many thanks. Tracey Noble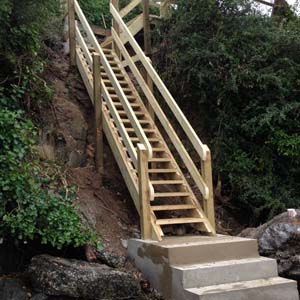 Thanks Andy & Team for great job. Steps to beach are great, tricky job quickly and expertly completed.
Bob Slack